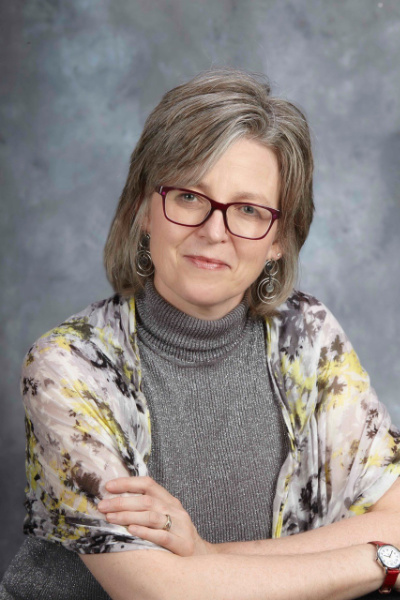 Director Joy-Anne Murphy
Joy-Anne is a native Edmontonian who holds a Bachelor of Music Degree in Voice Performance from McGill University in Montreal, as well as a Master of Music Degree from the University of Alberta with a dual specialization in Choral Conducting and Voice.
As teacher, conductor, adjudicator and clinician, Joy-Anne has worked with students of all ages and abilities, both in private studio instruction and at the university level. Her conducting skills have involved her in university, community and church choirs of all ages.
Joy-Anne is a mezzo-soprano with an extensive and varied background in solo and choral performance, having worked with ensembles large and small in repertoire that ranges the spectrum through classical, musical theatre, gospel, praise, avant-garde, jazz and early music. The broad spectrum of her musical experience has provided Joy-Anne the opportunity to try her hand at such varied instruments as lute, recorder, hand-bells, chimes, xylophones and other mallet instruments, and African drums and of course a bit of piano.
In her work with the Camrose and Area Children's Choirs since 2002, Joy-Anne has expanded the groups to include a Junior choir for grades 1-3, Senior Choir for grades 4-9 and the select ensemble Vivo Cantando, Spanish for "I live to sing" for grades 5 and up. New in 2021, RESOUND! Instrumental groups will explore pitched and non-pitched percussion. Joy-Anne is a great believer in accessibility, so many of the groups are non-auditioned, with audition requirements being loose guidelines to allow the greatest participation and enjoyment possible.
Since its inception in 2003, Joy-Anne has directed the award-winning adult chamber choir Camrose Camerata with spouse Darryl Dewalt. A mixed-voice auditioned choir, Camerata provides an opportunity for the musical community of the greater Camrose area to sing and perform incredible music, taking advantage of the many beautiful acoustic venues in our city. This choir also aims to foster a love of all styles of choral music as an art form, as we build community and appreciation in both our singers and our audiences.