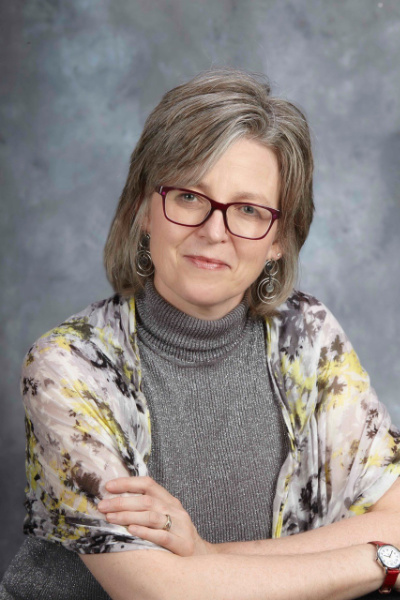 Joy-Anne Murphy
Joy-Anne is a native Edmontonian who holds a Bachelor of Music Degree in Voice Performance from McGill University in Montreal, as well as a Master of Music Degree from the University of Alberta with a dual specialization in Choral Conducting and Voice.
As teacher, conductor, adjudicator and clinician, Joy-Anne has worked with students of all ages and abilities, both in private studio instruction and at the university level. Her conducting skills have involved her in university, community and church choirs of all ages. In her work with the Camrose and Area Children's Choirs since 2002, Joy-Anne has expanded the group to include a Jr choir for grades 1-3 and the select ensemble Vivo Cantando, Spanish for "I live to sing".
Joy-Anne is a mezzo-soprano with an extensive and varied background in solo and choral performance, having worked with ensembles large and small in repertoire that ranges the spectrum through classical, musical theatre, gospel, praise, avant-garde, jazz and early music. The broad spectrum of her musical experience has provided Joy-Anne the opportunity to try her hand at such varied instruments as lute, recorder, hand-bells, chimes and African drums.
Currently living in Camrose, Alberta with her family, Joy-Anne teaches voice in her private studio and through Augustana Campus of the University of Alberta. In addition to directing the Camrose and Area Junior and Senior Children's Choirs and Select Ensemble, she leads the award winning adult chamber choir Camrose Camerata.
Gillian Nimmo-James
Gillian comes from a long line of music lovers, from her gran's love of opera to her little bro's cool enjoyment of Ice Flo. Gillian has been a member in good standing of Joy-Anne's choir for the past three years. She is learning to play the violin and work with Joy-Anne this year. Gillian isn't really sure yet what she wants to do with her future and how music figures into the equation, but there's plenty of time. As one of her favourite books says, "No one really smart knows what they want to do until they're 20 or 30." You can find Gillian at her home in the country with her family, books, garden, Tereré, and lawn mower.